We produce packaging prints and barrier solutions with the latest technology
OptiPack AB is a dynamic packaging developer who is known for high-class quality and service as well as our secure delivery security. We print, convert and refine packaging materials and offer the latest technology in HD flexo on paper and paper laminates for the food and pharmaceutical sector as well as for industry and transport packaging. Our production is in Sunne and our customers are mainly in the Nordic region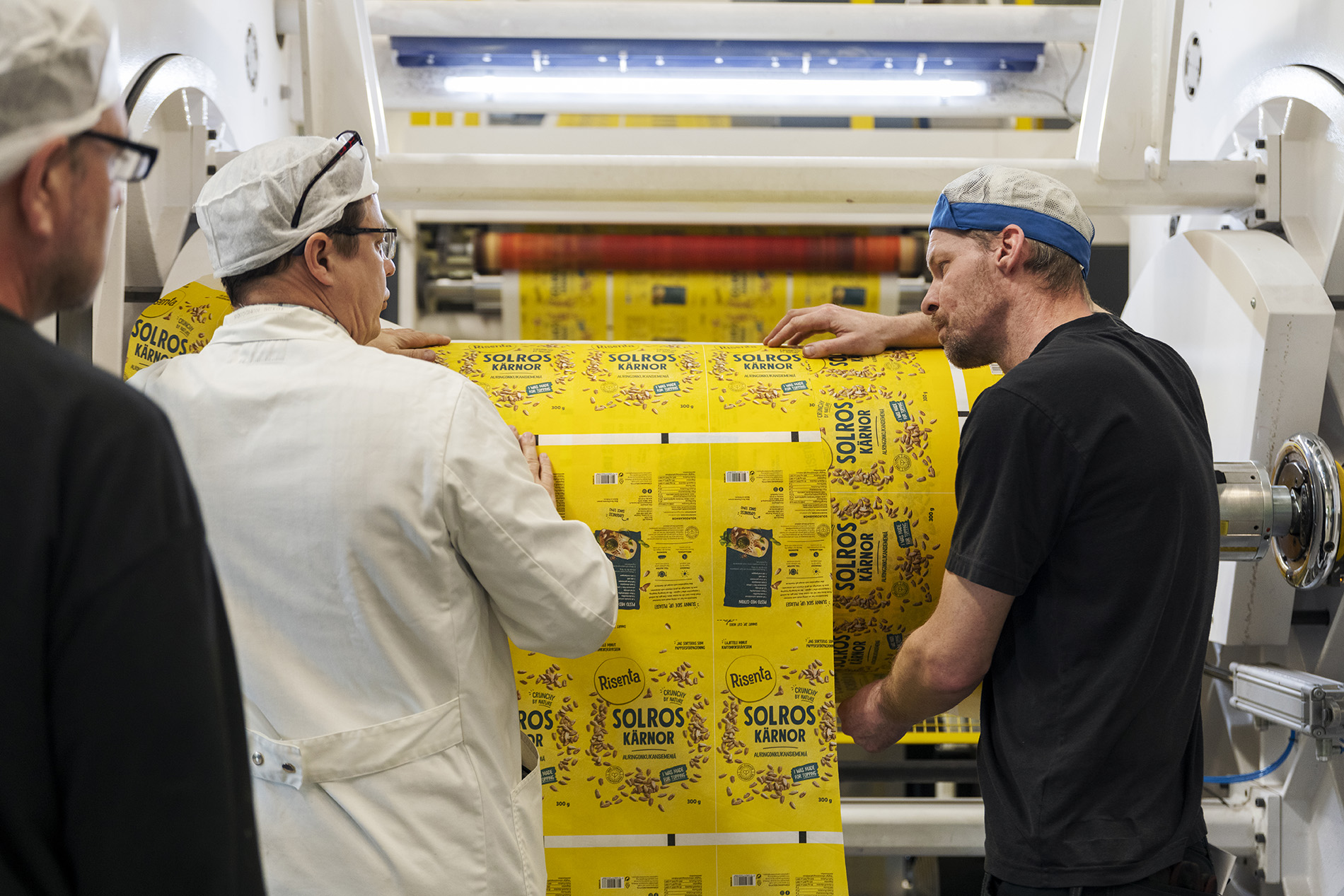 HD flexo - High quality is key
Developments within Flexo print makes it possible to produce at the highest level. HD Flexo is a technology that is current in use, but we always follow development so we are using the best possible solutions.
HD-Flexo in cooperation with the ink and separations give fantastic possibilities for an attractive packaging print.
COLOUR MANAGEMENT
Is the process were we want to predict color between two or more color units (screen, printer to simulate the printed result)
We use ICC profiles that describes the characteristics. To be able to achieve repetitive results we do finger print tests under normal conditions I full production speed, with correct ink and fresh aniloxrolls. The printed profile is used to simulate print and correct color of images on the pack.
EXTENDED GAMUT PRINTING
EGP – Expanded Gamut Printing Is printed with  CMYK + OGV by adding orange, green and violet (OGV) it expands the possibilities of colors and you can achieve an effective production. OGV is used to switch between many different PMS colors. EGP recluses material and energy consumption in the printing process compared to traditional printing were PMS colors are used.
It is a great success to use only process colors CMYKOGV. OptiPack have been in the forefront of developments around this technology and it makes the brand owners achieve a much more sustainable result för packaging print
PROOFING
With a predicable result every time, simulated on your own material. OptiPack can offer a variety of proofing systems. All our proofs is done with profiles so quality and colors is precise every time.
Safety & Hygien
For us to be able to produce safe and good results our work place is very important to us. Our staff must feel safe at work. Our hygien certificates makes the production safe so our customers can rely on us.